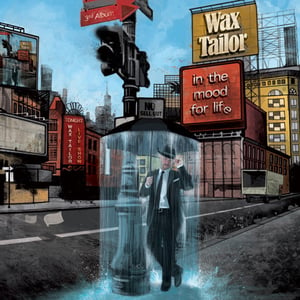 $

9.99
His first album Tales of the Forgotten Melodies drew comparisons to the likes of Ratatat, Portishead and DJ Shadow, while his second Hope & Sorrow landed him a nomination at the prestigious French Victoires de la Musique, as well as the US Indie Awards. Wax Tailor is coming off a year which saw him tour relentlessly and
score the title track for the movie Paris by Cedric Klapisch as well as a few remixes (Nina Simone, ASA).
In The Mood For Life was recorded over the last six months of 2008 between New York City and Paris and features vocal contributions from UK artists Charlie Winston & Dionne Charles, Americans Ali Harter & Sara Genn as well as the returning participation of past collaborators Charlotte Savary, Voice, A.S.M. & Mattic.
The writing has continued to evolve from where Hope & Sorrow left off, emphasizing string instruments and more mature arrangements. In the Mood for Life is an organic landscape with orchestral accents where Soul, Funk, Hip-Hop or 60's Pop Music intertwine, to create one eagerly awaited 52 minute journey.