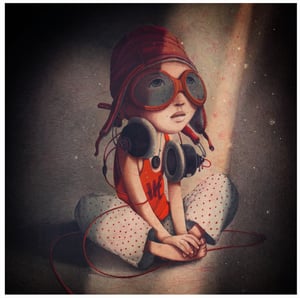 $

12.99
Wax Tailor established his reputation in just a few years as one of the leading voices of the post hip-hop and downtempo scenes, enticing fans worldwide with a unique musical blend. Returning with the concept album Dusty Rainbow From The Dark, the French producer gives us a musical tale inspired in large part by the enchanted world of children. His fourth long player is also a charming allegory on the escapist power of music.
Having worked extensively with studio musicians for his last two albums, Wax Tailor decided to work exclusively with samples to craft the music on this album, with a unique twist. Rather than replicating loops, he sampled to gather textures and rework them into individual notes, which are then programmed into melodies, giving a very vintage feel to the sound of the album.
Another key element of this album is that it follows a plot, co-written with singer-songwriter Sara Genn, and narrated by the legendary voice of Don McCorkindale (The Avengers, on BBC Radio). This album manages the feat of utilizing each guest (Aloe Blacc, Elzhi, Shana Halligan from Bitter:Sweet, to name but a few) in the context of this plot.
The opening notes of Exordium set the stage: luxuriant orchestrations and ethereal female murmurs parade in the background while Don McCorkindale's captivating voice leads the way. The story unfolds as the album charts its course, alternating between scenic moments (No) and psychedelic notes (Heart Stop). Some tracks (Past, Present & Future) are built around the type of scratch dialogues reminiscent of Wax Tailor's classic Tales of the Forgotten Melodies album. Others find the producer acting as an alchemist, combining genres such as swing and funk (The Sound), or soul and traditional Indian music (Time To Go). Instrumental tracks ooze symphonic orchestrations (Phonovisions) or venture into movie soundtrack territory (From The Dark).
With this grand mosaic, Wax Tailor gives us a work that is at once modern and timeless.
The CD is a Digisleeve with 2 CD's, including the instrumental version of the album, while the LP is a gatefold 2xLP with printed inner sleeves.
CD1 / LP tracklisting:
1. Exordium
2. Dusty Rainbow (feat. Charlotte Savary)
3. Like An Hourglass
4. Only Once (feat. Ali Harter)
5. Heart Stop (feat. Jennifer Charles)
6. Something Began To Glow
7. No
8. A Stop Motion Bloom
9. The Sound (feat. Mattic)
10. In The Mirror
11. Past, Present & Future (Rock 'n' Roll)
12. Not Alone
13. Down In Flames (feat. Sara Genn)
14. Time To Go (feat. Aloe Blacc)
15. Magic Numbers (feat. A.S.M & Mattic)
16. No Regret (feat. Shana Halligan)
17. Phonovisions
18. Into The Sky
19. My Window (feat. Elzhi & Akua)
20. From The Dark
21. Heart Stop (feat. Jennifer Charles) [Radio Edit]
22. Time To Go (feat. Aloe Blacc) [Radio Edit]
CD2: Bonus Instrumental
1. Exordium (Instrumental)
2. Dusty Rainbow (Instrumental)
3. Like An Hourglass (Instrumental)
4. Only Once (Instrumental)
5. Heart Stop (Instrumental)
6. No (Instrumental)
7. A Stop Motion Bloom (Instrumental)
8. The Sound (Instrumental)
9. In The Mirror (Instrumental)
10. Past, Present & Future (Instrumental)
11. Not Alone (Instrumental)
12. Down In Flames (Instrumental)
13. Time To Go (Instrumental)
14. Magic Numbers (Instrumental)
15. No Regret (Instrumental)
16. Phonovisions (Instrumental)
17. Into The Sky (Instrumental)
18. My Window (Instrumental)
19. From The Dark (Instrumental)